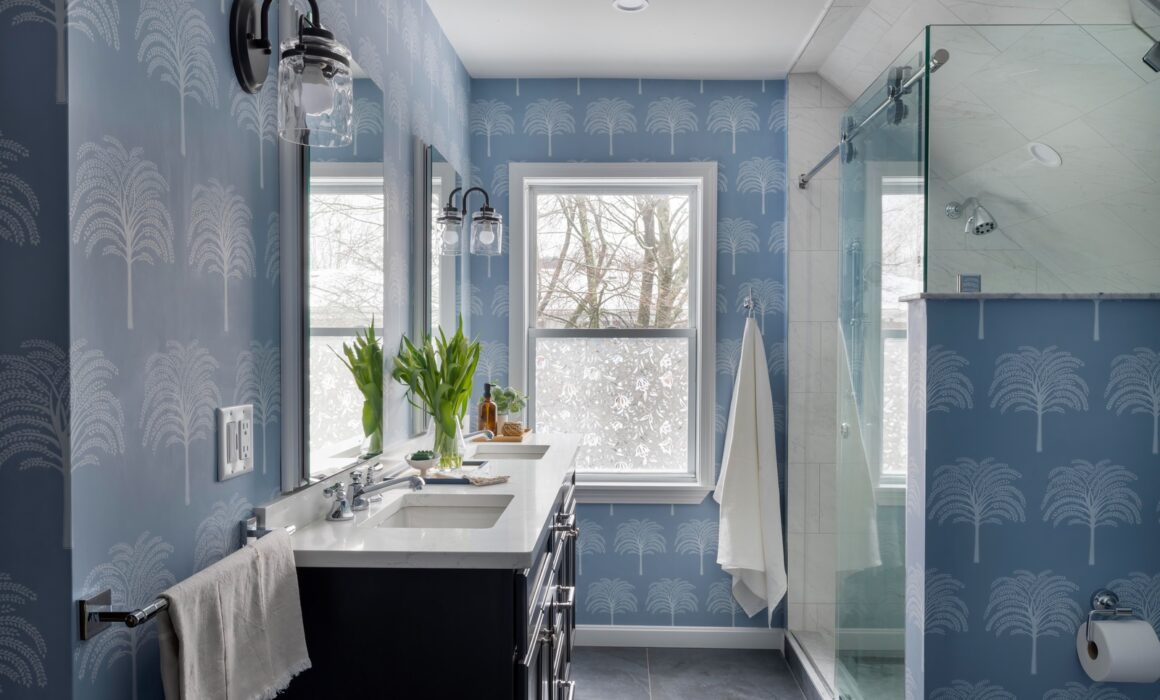 Planning a bathroom remodel in 2023 is about making the most of what you have and knowing the latest bathroom remodel ideas. Tricky layouts and limited fixtures are challenging to work around. Whether it's a cluttered guest bathroom or a bathroom in an older home, there are an overwhelming amount of options for your space, budget, and time.
The good news is: even with a limited budget; you can work out a plan for your bathroom that maximizes every inch. Here are luxury bathroom remodel ideas to upgrade your bathroom into an open and functional space.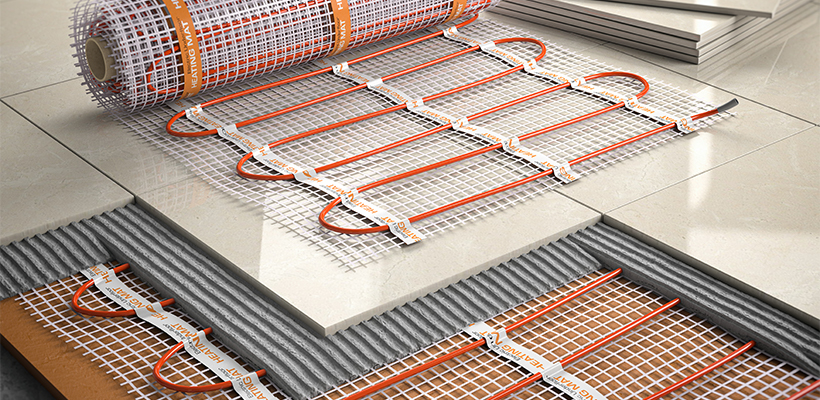 Radiant Floor Heating
Thinking of bathroom remodel ideas for 2023? Transform it into a tropical paradise with Radiant Floor Heating. It's more efficient than baseboard and forced-air heating and works by removing duct losses. Allergy sufferers love it because it doesn't distribute allergens like forced-air systems do. Want to save money? Liquid-based hydronic systems use less electricity, making them perfect for off-grid or high-electricity areas. They're the best heating option for heating-dominated climates. And the best part? They heat up in just 30-60 minutes, allowing you to turn them on and off as needed.
Features & Advantages
You can save a lot on labor costs if the flooring is lifted and changed anyway. Radiant floor heating systems are known for being quiet. Unlike forced-air systems, there isn't a loud furnace that kicks on. Therefore, you won't hear anything while they're on. Because floor-heating systems directly warm the room via radiant heat, they don't disturb any existing dust and allergens. When you plan your bathroom renovation, note two radiant floor heating types: electric-based systems and water-based systems.
When remodeling your bathroom, radiant floor heating is especially worth considering.
Energy Efficient Heating
Radiant floor heating uses lower temperatures to warm up your home efficiently at 80°F instead of 160°F required by radiators. Say goodbye to cold spots as pipes/wires cover your entire room. Unlike radiators that cool down, radiant heat stays consistent. And the icing on the cake: it saves up to 15% on your heating bills.
Effortless to Run
Radiant floor heating is compatible with programmable thermostats.
More Space & Design Freedom
Without the need for bulky radiators on the walls, you create more space to design as you please.
Compatible With All Floors
This floor heating works well with laminate, wood, tile, stone, carpet, and more.
Safety and Comfort
Radiant heat is also much better for the air quality in a room since it keeps the air fresh and oxygen-rich. On the other hand, high temperatures caused by radiators increase discomfort and reduce oxygen levels.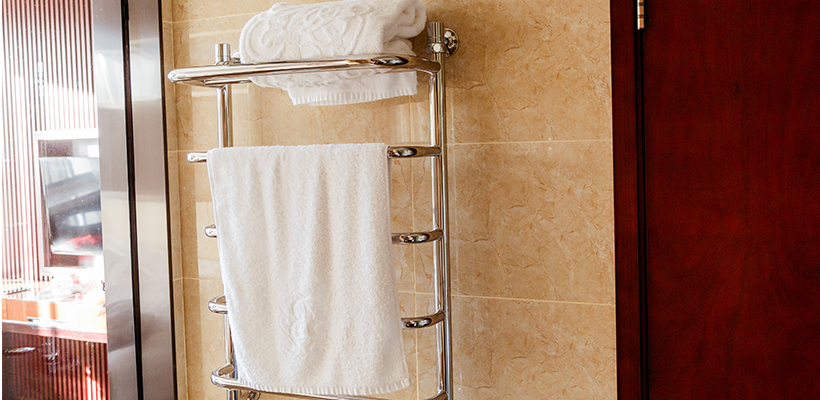 Heated Towel Racks
Upgrade your bathroom with an addition that'll change your life: a heated towel rack. With 2023 here, it's time to refurbish your bathroom with innovative bathroom remodel ideas. Don't overlook the importance of a heated towel rack during winter months as it's a game-changer in successful bathroom renovations. Eliminate that musty smell by conveniently drying your towels while they hang. By keeping your towels dry between uses, you'll also reduce the growth of mold and keep your towels hygienic for longer. A heated towel rack won't only transform your bathroom but also elevate your towel-drying game. So, invest in a heated towel rack and enjoy warmth and dryness every time you step out of the shower.
Features & Advantages
Upgrade your bathroom with a heated towel rail that saves energy! Installing a timer helps customize your heating preferences according to your lifestyle and keeps your device from running all day long. With its modern and chic design, this rack can easily act as the centerpiece of your bathroom or blend seamlessly into your décor. Say goodbye to damp and smelly towels – a heated towel rack solves this problem with ease!
Fewer Laundry Loads
Since a towel warmer means dry, mildew-free towels, fewer laundry loads need to run. Reusing bathroom towels means you're saving water, energy, detergent, and most importantly, time! And you'll still have a fresh towel without washing it each time.
Efficient Energy Consumption
Towel warmers and heated towel racks provide efficient heat while using minimal energy. While there are various heat control options, a typical frame consumes only as much power as one to two light bulbs. Plus, think beyond towels. An electric towel warmer or heated towel rack also allows you to dry delicate personal items, swimsuits, and wet clothing. Plus, the warmth it emits is also adding supplemental heat to the room.
Ease of Installation
The towel rail can connect to the existing central heating system. A pair of new or existing radiator valves is all that's needed to support them. Electrically heated towel racks are simple to set up and install (with a qualified electrician). They usually represent a cheaper alternative to central heating and dual fuel options. They also offer the most affordable means to guarantee your towels are toasty, warm and dry. Furthermore, modern designs provide outstanding aesthetic appeal.
Dual fuel towel racks are an exceedingly popular type. They allow the user to enjoy the best of both worlds regarding central heating and electric operation. These towel rails incorporate an electric heating element, while connecting to the central heating system.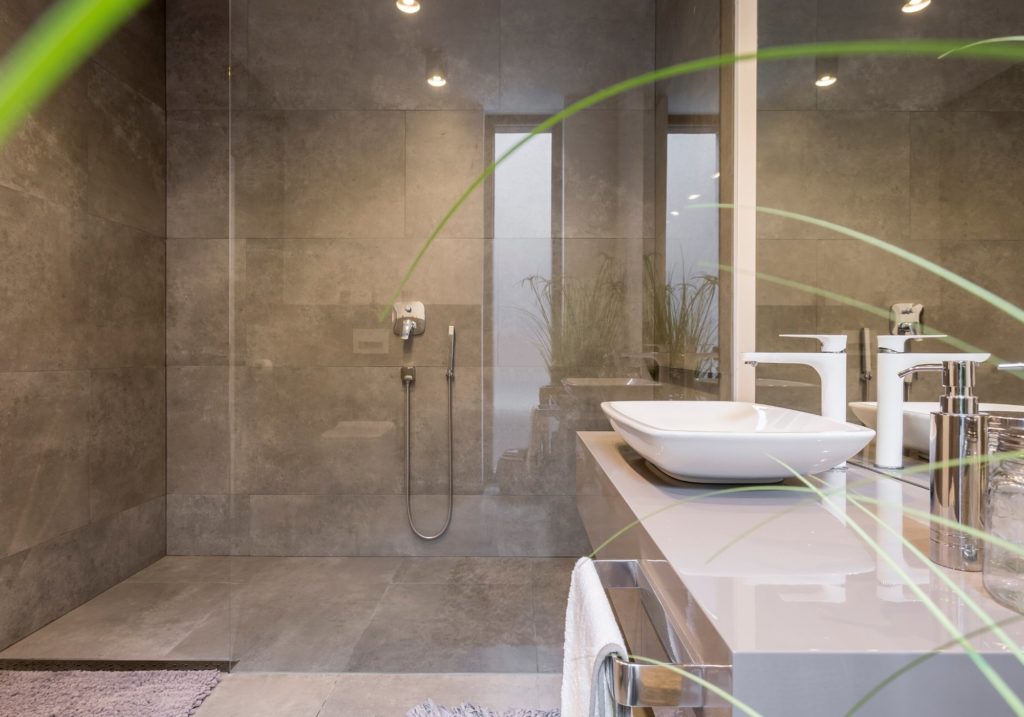 Curbless Showers
Consider bathroom remodel ideas for 2023, such as implementing a curbless shower design. This option provides more accessibility and easy maintenance. Without a shower threshold, this design allows for a seamless transition from shower to floor. You can create personalized tile patterns with this design, using simple, large-format tiles. A curbless shower gives your bathroom a modern and clean look, and removes the hassle of shower-threshold cleaning. Take advantage of this approach to upgrade your shower and simplify your cleaning routine.
Features & Advantages
Discover the effortless accessibility of a curbless shower – no more stepping over ledges or edges! Perfect for both spacious and compact areas, these installations are tailor-made to fit your unique bathroom requirements. Even if you have limited space, you can place a curbless shower in a corner, freeing up valuable room elsewhere.
Best Use of Space
Curbless showers are ideal for smaller spaces because of the open feeling they give the room. Bathtubs can take up a lot of floor space, which can be up to half of the bathroom floor in some cases. A glass tile shower in the bathroom can open up the room and makes it feel larger.
Easier to Clean
How often do you have to change your shower curtain because of mold and mildew growth? How often do you get mad while taking a shower because the shower curtain sticks to your legs? Fortunately, ceramic tile is naturally resistant to bacteria and mold, making curbless showers easier to clean. There are fewer nooks and crannies in a curbless shower when compared to a shower/tub combination. You no longer have to worry about shower curtains or liners with a curbless shower. That also means you don't have to spend half of your shower fighting with the curtain while you're trying to get clean.
Flexible Design
A curbless shower offers improved accessibility to everyone from the very young to the very old. Since glass surrounds your curbless shower, you can see your tile as soon as you walk into the bathroom.
Luxury, Spa-Like Experience
Curbless showers give you lots of flexibility regarding design. Additions like benches, in-set shelves, niches, and even heated floors are all possible in your curbless shower. For more information, follow our blog to determine if curbless showers are right for your bathroom remodel.
Learn more about curbless showers.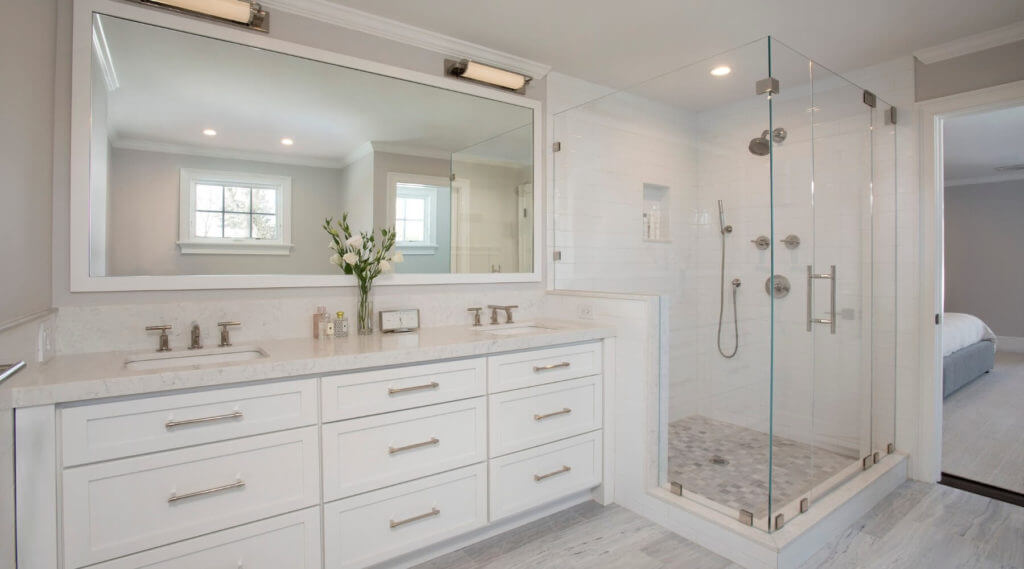 Glass Shower Enclosure
Upgrade your bathroom with a glass shower enclosure! Not only will it create a separate and easy to clean bathing space, but it also adds a sleek and spacious look without blocking off the area. Plus, better airflow is guaranteed compared to metal frame stalls or traditional curtains. No more worries about slippery shower curtains causing accidents, especially for the little ones and elderly. Glass shower enclosures significantly reduce the risk of mishaps in the bathroom, with less water on the floor and minimal clean-up after your shower. Invest in a safer and more stylish bathroom upgrade now!
Features & Advantages
Much like curbless showers, here are a few of the benefits of adding a glass shower enclosure to your next bathroom remodel.
Door Type
Glass enclosures have two main door style options: sliding and swinging. Swinging doors – also called pivot doors or hinged doors – can turn outward, inward, or both. They're best for larger bathrooms. Sliding doors are best for smaller showers since they don't need extra floor space to swing inward or outward.
Frame Style
Glass shower enclosures come in framed and newer frameless designs. Framed shower enclosures have metal frames that support the shower glass. Whereas frameless showers incorporate thicker, stronger glass that is structurally stable without this frame. There are two main differences between these shower door frame styles: aesthetics and design options. Most homeowners choose one frame style or the other depending on whether they enjoy a frame's appearance or not. However, frameless shower enclosures come with more design options.
Glass Type
Designing your glass shower enclosure is easy when you have a glass frame. With this option, you're free to explore different colors and textures of glass. Choose from clear, non-textured glass for a sleek and modern look. Or, opt for tinted glass to match your bathroom decor while adding an extra layer of privacy. And with textured glass, not only can you achieve ultimate privacy in your shower, but you'll also enjoy a unique and stunning aesthetic. The possibilities are endless with a glass frame.
Space Expansion
If you have a small space to work with, the best thing you can do is keep it simple. A glass enclosure provides a continuous line of sight, unlike a curtain that interrupts your field of vision. With this method, you can create the illusion of a larger space.
Clean Lines
The clean look of a frameless glass shower door creates a sleek, modern feel in your bathroom.
Better Hygiene
Shower curtains are soft, and since they're often wet, this gives bacteria a place to grow. Glass doors, on the other hand, are easy to clean, especially when properly treated.
Better Sealing
Glass enclosures provide superior water containment compared to traditional curtains. With a watertight seal from top to bottom, no splashing will escape your shower. Say goodbye to soggy floors and hello to an improved shower experience.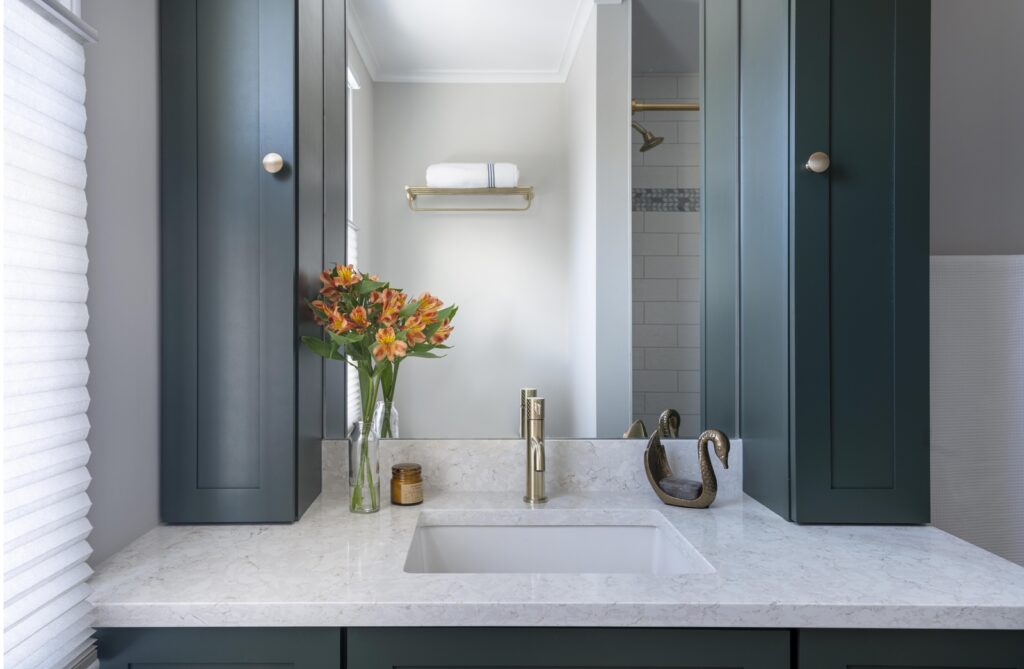 Vanity Styles
Small bathrooms can quickly overflow with towels and accessories, but some simple reorganizing and creative planning will maximize your storage. Find new space above mirrors, toilets, or a simple medicine cabinet. Add custom drawers to your cabinets for fumble-free access to your products. Tucking away outlets can free up counter space. Dry your hair without the fear of knocking over candles!
Features & Advantages
With so many styles of countertops, sinks, and mirrors to choose from, you should weigh all your different desired combinations. Here are just a few sample vanity styles to consider for your next bathroom remodel project.
Double vanity mirrors
Upgrade your morning routine with a primary bathroom essential: the double vanity. Say goodbye to clutter and hello to a pristine space tailored just for you. Perfectly suited for preparing for your day ahead, a double vanity will keep you organized and ready to take on the world.
Mirrored cabinetry
Mirrored cabinets running the length of the vanity or the whole length of the wall are back in fashion as functionality takes over as a priority for homeowners.
Double vanity
It's the solution to all bathroom fights! The double vanity works well in a busy family bathroom or just the primary ensuite. A double vanity also usually means double the storage too – everybody wins.
Timber vanity
Timber in the home owes its popularity to the Scandi trend. An oak vanity in your bathroom serves two purposes – it brightens up the room and complements the beauty of marble tiles and dynamic tap ware.
Curved vanity
Bring a little bit of old Hollywood glamor into your home with a retro-inspired vanity with rounded corners. It's a small change from the norm, but it has quite an impact because it's a little different.
Floating vanity
It's a luxurious approach to under sink storage, and there are plenty of different varieties to choose from with open and closed storage underneath.
Built-in vanity
If you don't want a floating vanity, you can get a cabinet that goes to the floor and offers you the additional storage that you need. You won't have to worry about cleaning underneath or things falling under it either.
Open vanity
People often get vanities with enclosed doors to hide the mess and have a clean looking bathroom remodel. However, you can opt for an open vanity, perfect for guest bathrooms where you don't use that particular bathroom as often.
The Right Bathroom Remodeler in Massachusetts
Want to make the most of your bathroom space and elevate your daily routine? Find the perfect bathroom remodeling team! Opt for seasoned pros who take the time to truly grasp your needs and preferences, resulting in optimal functionality and ambiance. Since your home is your biggest investment, don't just trust anyone with your renovation needs. Woodland Builders in the greater Boston area boasts unrivaled design-build expertise, delivering your dream bathroom remodel on schedule and on budget. Why wait? Call us today!