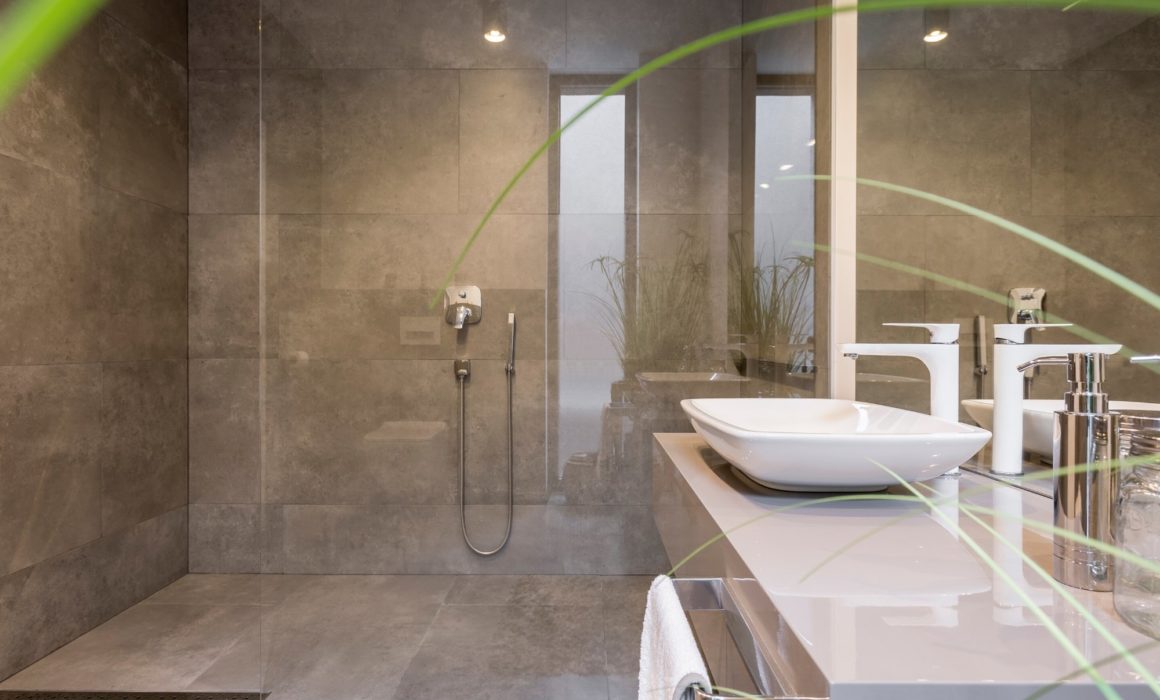 More and more homeowners are remodeling their bathrooms to include curbless showers, AKA threshold-free showers. Is it just a trend, or are bathrooms without barriers better? Like other renovation projects, there's no "one size fits all." But there are good reasons why curbless showers have become so popular for residential bathrooms, especially master bedroom suites. Here are some of the key reasons.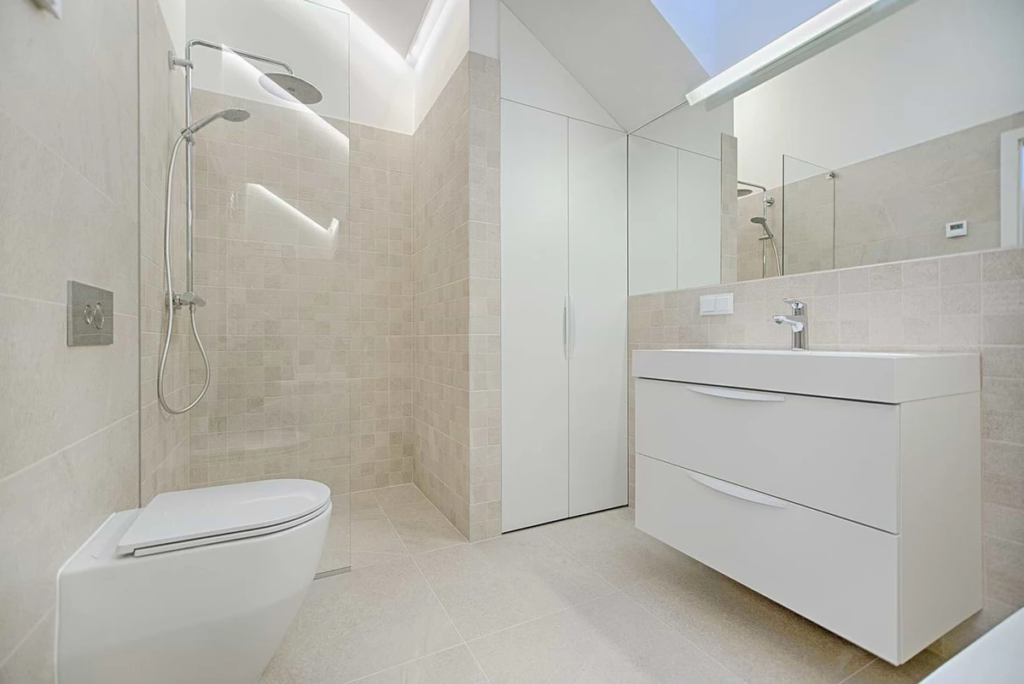 What is a Curbless Shower?
A curbless shower, also known as a threshold-free shower, has no step or barrier to cross over when entering or exiting. These showers are more accessible and safe for people of all ages and abilities, including those with mobility issues. Curbless showers are typically flush with the surrounding bathroom floor. They often have features like grab bars and non-slip surfaces to improve safety. They are becoming increasingly popular for their sleek and modern appearance, as well as their practicality and versatility. With no barrier to stepping over, they also make cleaning and maintaining the bathroom space easier.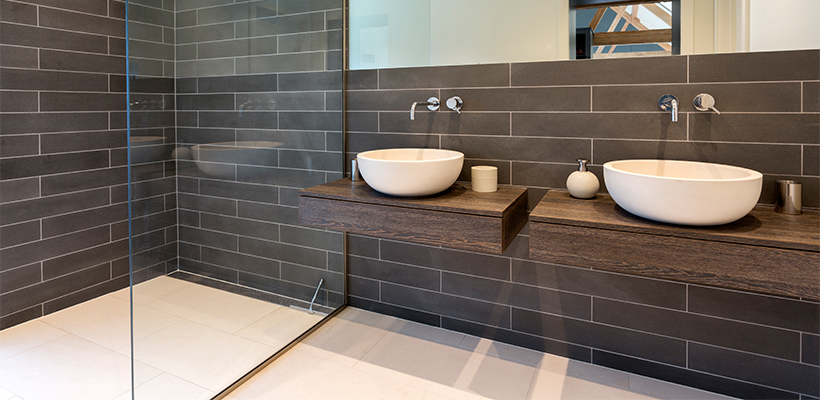 Curbless Shower Design Ideas
Curbless showers are becoming increasingly popular in modern bathroom design due to their sleek and minimalist appearance. One of the best design ideas for a curbless shower is incorporating a linear drain system. This type of drain eliminates the need for a central drain, providing more freedom in the shower design and making it easier to clean. Another great design idea is to use large-format tiles on the shower floor and walls, which helps to create a cohesive and spacious look. Also, choosing materials with anti-slip properties, such as textured porcelain or natural stone, can help increase safety in the shower. Other curbless shower design ideas include installing built-in seating, adding a rain showerhead, and incorporating niches or shelving for storage. By embracing these ideas, homeowners can create a beautiful and functional space that's both stylish and safe.
Quality Curbless Shower Materials
Some of the best materials for constructing curbless showers are tiles, natural stone, and terrazzo. Tiles are suitable for creating custom looks because they come in many shapes, sizes, and textures. Natural stones such as granite and marble add a luxurious touch to the bathroom and are highly durable. They require little maintenance and provide slip-resistant surfaces. Terrazzo is a smooth, polished surface made from marble, quartz, or granite chips and cement. It's durable and easy to clean. When installed correctly, these materials provide a barrier-free shower environment without compromising the style and function of the bathroom.
Benefits of a Curbless Shower
A Bathroom With a Curbless Shower Feels More Spacious
When people enter a bathroom with a curbless shower, they often describe a sense of walking into a spa. Without the visual obstacle of the curb, the wall-to-wall floor creates a more streamlined and airy look. This trend is especially noticeable if you have a small-to-medium-sized bathroom.
Your Curbless Shower Highlights Design Elements
You've carefully designed your shower's interior to include your favorite stone, tiles, fixtures, and other building materials. Why hide these design features with a door or curtain? Instead, you can make them an integral part of your new bathroom's overall design.
This No-Obstacle Shower Is Accessible to Everyone in Your Home
By eliminating a four to six-inch barrier, you create a safe and accessible bathroom for everyone. If you plan to remain in your home long-term and "age in place," a threshold-free substitute is ideal. For families who are building additions or remodeling an existing area for grandparents, the curbless shower is also a smart choice. It gives greater independence to those in wheelchairs or with mobility issues. And remember that it's possible for anyone, disabled or not, to trip over a shower threshold.
A Threshold-Free Shower Makes Cleaning Less of a Chore
It's hard work cleaning a small corner or alcove shower. It's incredibly frustrating trying to scrub hard-to-reach areas, especially those prone to mold and mildew. Cleaning the shower floor while bending over a barrier can also be awkward and even painful. Cleaning an open shower is physically more comfortable with a handheld showerhead. Plus, there are fewer areas where grime and mildew can build up, making it easier to keep your shower sparkling clean.
The Design Keeps Water Where It Should Be
Although you might think otherwise, a barrier-free shower helps keep water in place. An architect can provide a proper "splash zone" and design the floor to slope down toward the drain for efficient water removal. One warning—make sure the showerhead is in the right position to keep water in the splash zone!
The Open Floor Plan Creates a More Inviting Space
Despite all the advantages, there are a few reasons why some people prefer a standard shower. They might like the added privacy of an enclosed shower. However, you can also achieve this level of privacy with obscured glass or curtains—although you'll lose some of the open layout. Secondly, you might be afraid that water will get everywhere. This design could be a problem if the contractor doesn't allow for a sufficient splash zone. That said, a high-quality contractor will know the right layout and products to minimize this issue. A third concern is that the open floor plan will leave you exposed to the cooler air outside the showering area. While this is true, heated flooring and other smart design elements can help keep you toasty.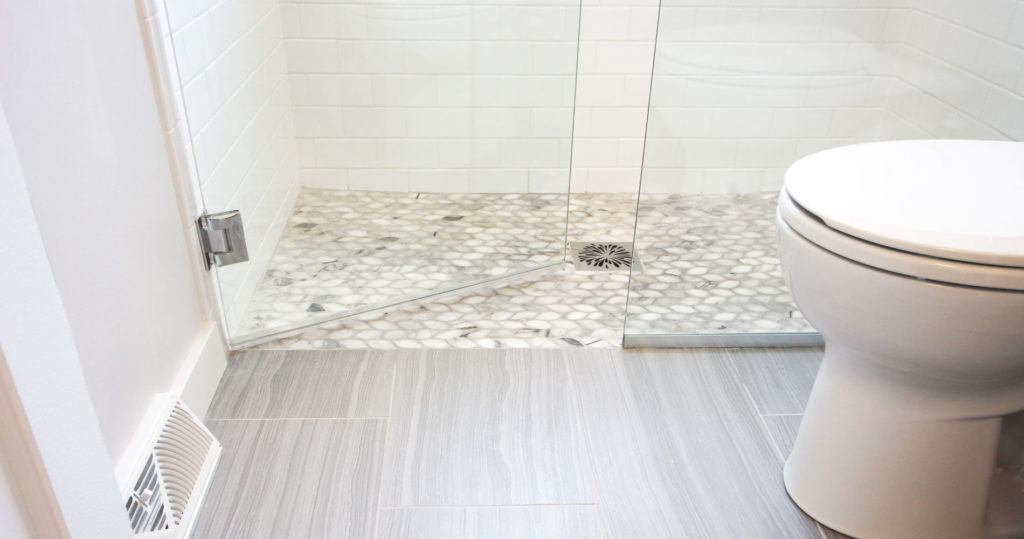 Steps to Take to Ensure Proper Drainage in Your Curbless Shower
To guarantee proper drainage in a curbless shower, follow these steps:
Slope the shower floor towards the drain. This step can be done with a pre-sloped shower pan or linear drain system.
Waterproof the entire shower area with a membrane.
Consult with a plumber to ensure the drainage system is installed and meets local plumbing codes.
Clean and maintain the drainage system to prevent clogs and ensure water flows freely.
By following these steps, a curbless shower can provide a safe and accessible bathing experience for all users.
Should My Bathroom Remodeling Include a Curbless Shower?
Only you can decide if a curbless shower or threshold-free shower suits your tastes, family needs, and lifestyle. Above all, review these options with your remodeling team. Most important, find a contracting company that is highly qualified and experienced. Otherwise, you risk having disastrous cost overages, delays, and repairs. For example, improperly sealed seams or low grouting can lead to expensive leaks and severe damage.
Remodeling your bathroom is a significant investment in your family's home. For your project to run smoothly, there's nothing more important than hiring a contractor with impeccable craft and professionalism with the best results. To find out more about making your bathroom remodel a success, contact us today for you